Be inspired to go out into your yard or favorite play area and put up a swing today. I dug through hundreds of different swing photos and ideas to bring you the best 23 tree swing ideas.
If you stop and think about it, you have probably swung on many different swings in your life. When you were an infant your mother put you in a baby swing to rock you to sleep. As you got a little older you may have had a swing set in your yard. Or if you were like my brothers and me, you tied ropes to the trees that towered over your yard.
Back then we didn't have the internet to get ideas on what kind of swings to make or how to make them. We would just tie a rope to the tree and attach a stick to the end or make some knots to hold onto.
Today, there are many different ideas that you can implement in your yard. The differences available are is some cases very small, and in others, they are like night and day. I hope you enjoy the showcase below of the best tree swing ideas.
1. Tire Swing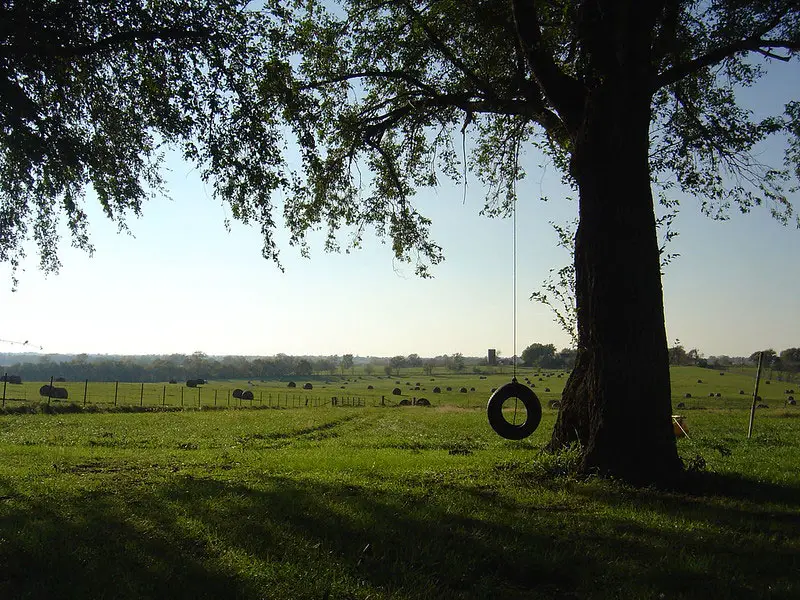 The tire swing is a classic. From oak trees overlooking cow pastures to trees in city parks, you can find tire swings being enjoyed by many. The tire swing can be hung from one side or it can be hung from multiple sides to give it a saucer like seating. Depending on the size of the tire, you can usually put one or two people on a tire swing. When choosing a tire, be sure that none of the metal is protruding from it if it is a radial tire. Also, you may want to coat the tire with non-toxic exterior paint. You can try Green Building Supply AFM SafeCoat or a similar product.
2. Horse Swing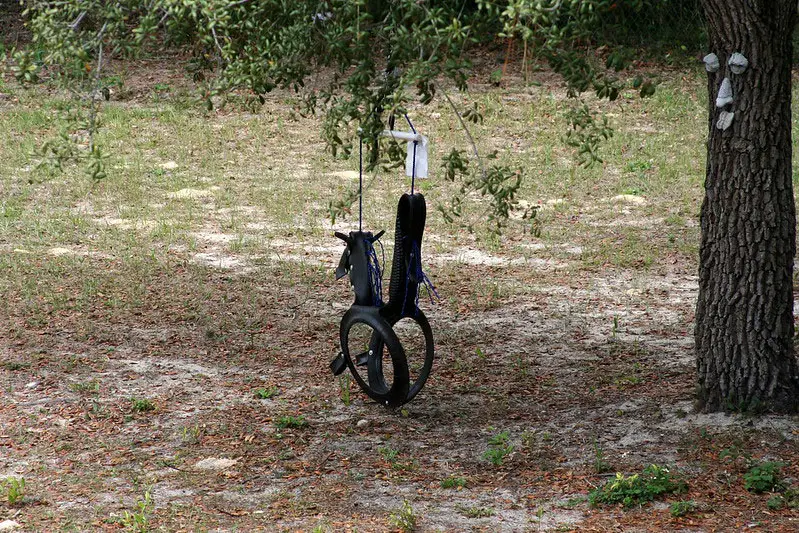 You would almost think someone was a genius to come up with the horse swing. This swing idea is a variation of the tire swing. To make it you need a pattern that shows you how to cut a tire the right way to make a horse swing. A few of the examples I have seen say to turn the tire inside out once you have cut it. Also, you should use a bias ply tire instead of a radial tire. Finishing the rubber with sealer or non-toxic exterior paint will help keep your riders clean. You can find a good a pattern at davesgarden.com.
3. Tree Log Swing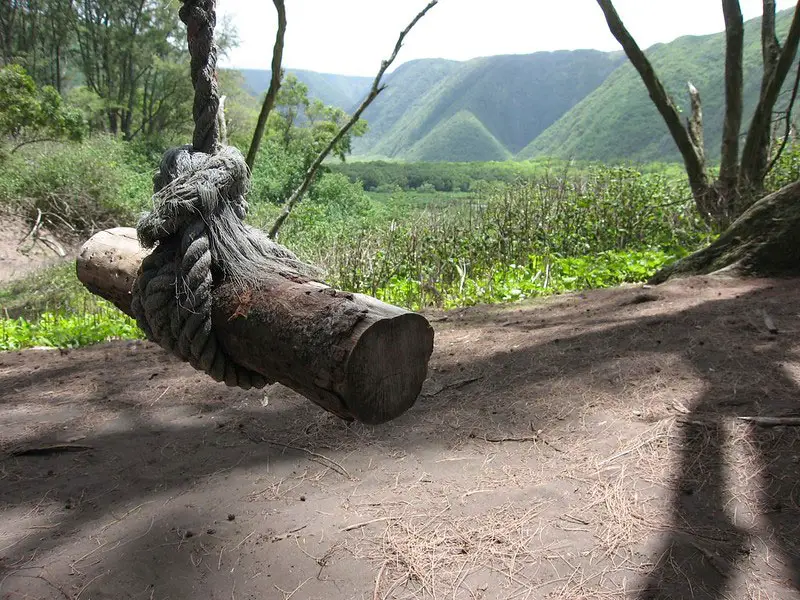 The log swing is a swing for someone that likes to make use of what's available in nature. This swing is cool because you can sit on it or stand. Also, if you get cold later in the evening, you can untie the rope and use the log as fire wood. Of course, the next day, you will have to find a new log to sit on.
Be sure that the log you choose is not infested with bugs. Check the log for dry rot by beating it on the ground or with a hammer. The last thing you want to happen is to have the log break apart while a rider is in the air.
4. Harnessed Safety Swing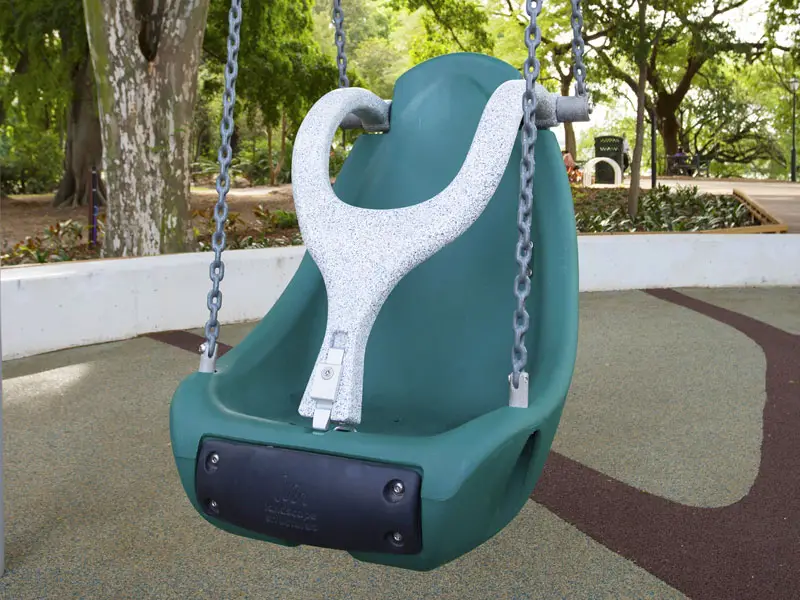 The harnassed safety swing is for small children. You can often find these on public swing sets or on swing sets that you buy from the store. Some variations of the safety swing don't come with a harness. The harnassed safety swing is the best for small children that have trouble keeping there balance or holding on to a rope for support.
5. Rubber Swing
The rubber swing is the swing we all grew up with on our swing sets. The great thing is you can also hang this swing from a tree. They are very inexpensive. You can pick one up from you local toy retailer or order one online. The rubber swing is easy to clean. I love the way these swing contour to you. They are very comfortable to ride on.
The only downside to this swing idea is that it can succumb to the weather. The sun and rain beating on it day after day, wetting and dry it, will cause it to discolor and eventually dry rot.
6. Disc Swing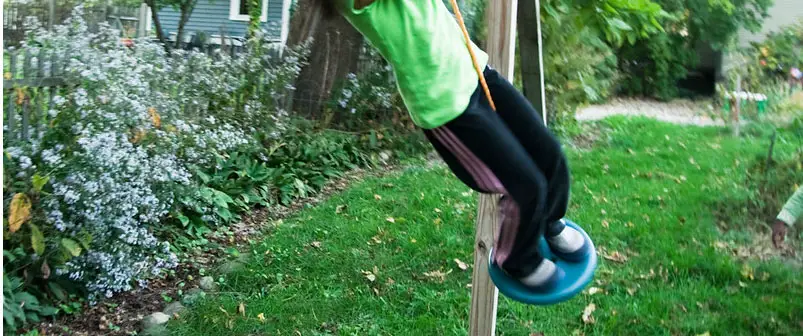 The disc swing idea is another swing you can hang from your tree to sit or stand on. They are usually made from plastic. The unique thing about the disc swing is you don't have to have the seat turned a certain way to sit on it. You can plop down on it from any angle because it is circular.
7. Trapeze Swing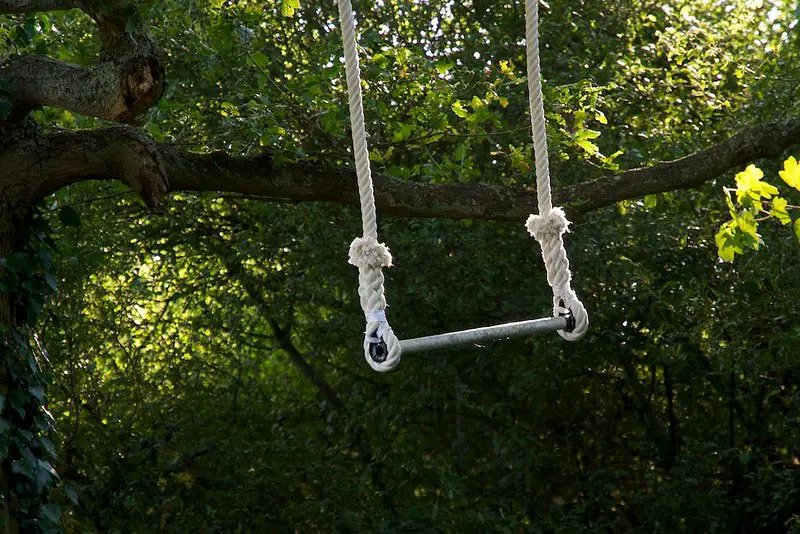 The trapeze tree swing is like none of the other ideas. This swing gives you multiple ways to ride. You can hold on with your hands and hang from the trapeze. You can sit on the bar and swing. You can stand on the bar and hold on to the ropes while you swing. Finally, if you are skilled enough (please only do this if you are a professional), you can dangle by your legs and swing like the trapeze artist in a circus.
8. Web Swing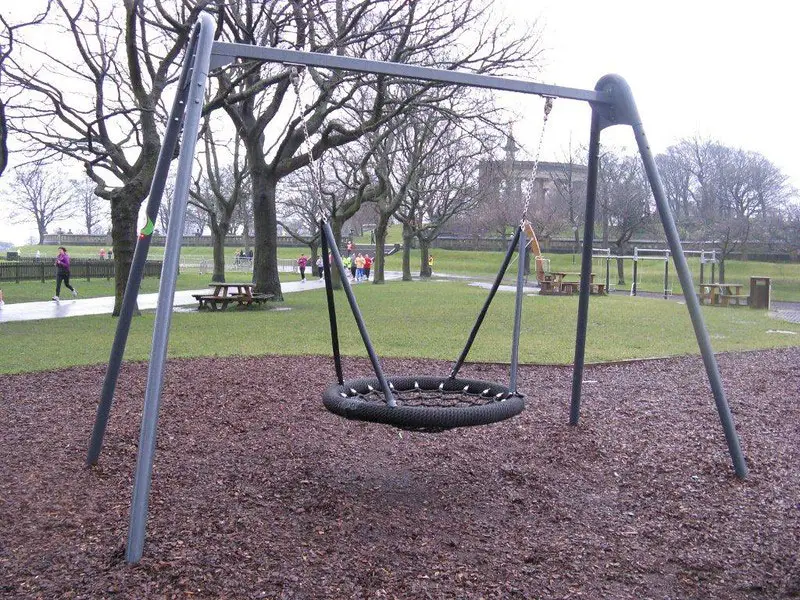 The web swing, also called a spider web swing, is a good swing for a group of friends to have fun on. The web swing is usually made with a solid frame that can support multiple riders. The frame is then wrapped with rope or other material. The center part of the swing is made from rope webbing. This webbing is what gives the web swing its name. Web swings can generally hold a few hundred pounds if hung correctly. Check with the manufacturer of your swing to get the exact specifications.
8. Bed Swing on Pallet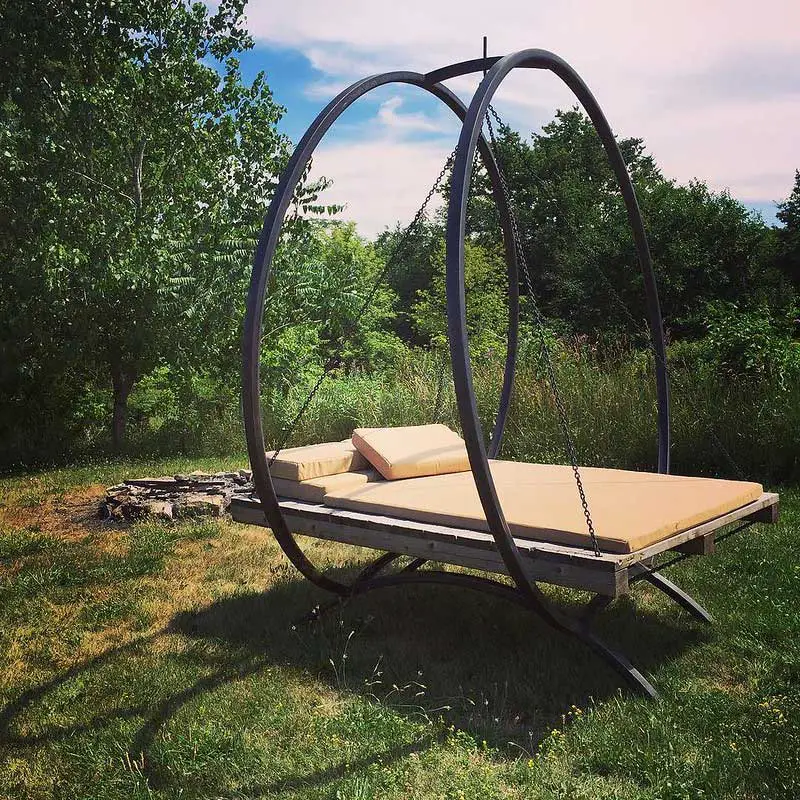 The bed swing is a nice swing to have if you want to spend some long days sitting or laying outside under your tree. This swing will literally make you feel like you are floating on air. The swing pictured above in on a frame that can support its load. When hanging this swing from a tree, you need to take extra precautions to make sure the tree can support the load. For light padding, you can use a blanket. For medium padding, you can get a mattress topper. If you want thick padding, you can put a real mattress on it.
10. Double Chair Swing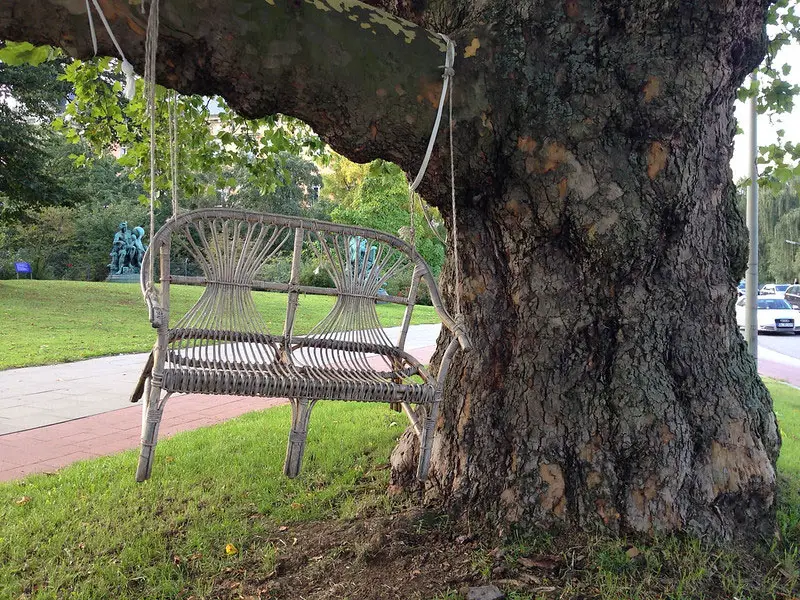 I included the double chair swing to break things up a little. Obviously this swing was meant for fun. Who doesn't want to ride on this masterpiece?
11. Wood Plank Swing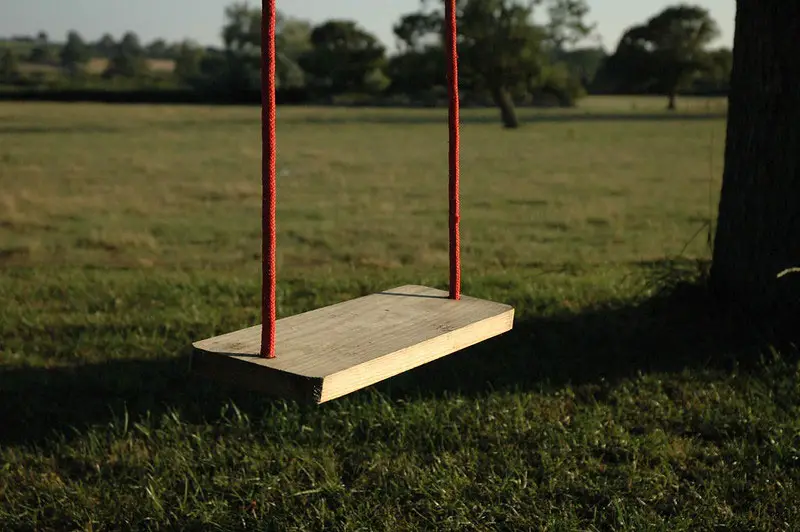 To me, the wooden plank swing is the swing of the movies. It seems like every movie I've seen with a swing in it has a wooden plank swing. This swing is ideal for sitting when riding. You could stand on it, but the uneven weight distribution when standing could cause a rider to fall. The wood plank swing allows you to sit and rock back n' forth to obtain a nice swinging motion. You can also paint the wood plank to a color that best fits you.
12. Airplane Swing
The airplane swing is a cute swing for children to ride in. The swing is supported by four ropes to keep it from tilting to one side and dumping the rider out. The airplane swing shoud come with a safety strap to put around any child riding in it. If it doesn't have a safety strap or the strap is broken, you should discontinue using it until you can have it fixed. You can also let your pets ride in it. Just be careful with them.
13. Knotted Melati Hanging Chair Swing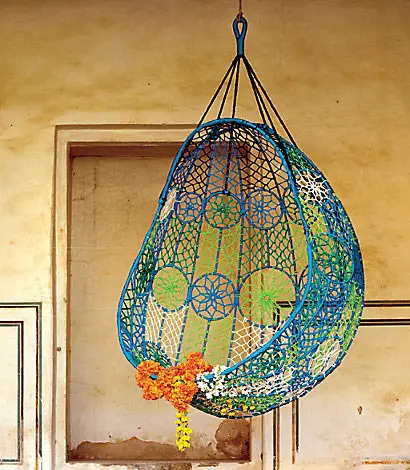 The knotted melati swing looks so comfortable. The swing is made from rope knotted together to create a beautifully designed chair swing. This is a swing you could spend many hours in reading or even sleeping in. The loose webbing that is created by tying the rope together gives you a great view even when looking through the swing. The loose design also lets air flow through the chair so you can stay cool on warm days.
14. Hammock Swing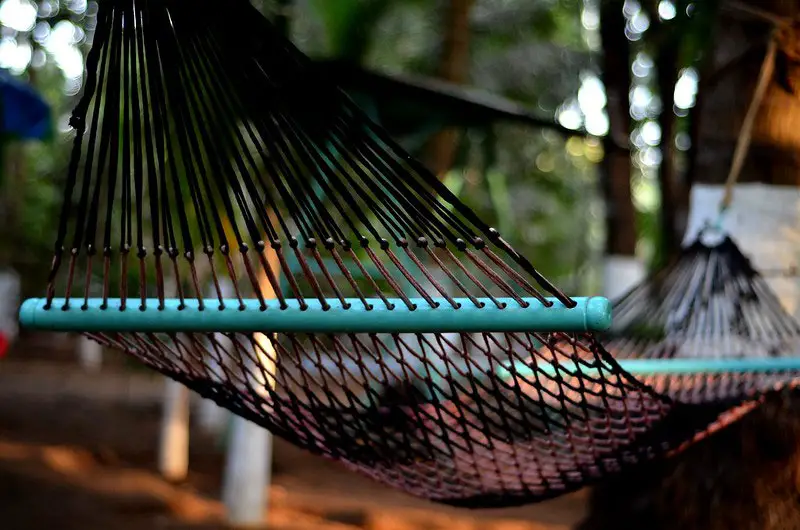 The hammack swing can be hung in multiple ways. You can tie it between two trees. You can tie it on one limb and aroung the base of the tree. You can even dangle it from the same limb, giving you a marsupial pocket effect. Which ever way you decide to hang your hammock, it is one of the best swings you can have to sit back and relax in. The hammock is a great swing to try if you have joint pain when lying down or sitting. It doesn't put a lot of pressure on your body. Instead, it contours to your shape.
15. Skateboard Swing
The skateboard swing pictured above is a reclaimed project. As you can see, this skateboard has had some wear and tear put on it. The skateboard swing gives you a seat to sit on and a good place to stand when swinging. This swing has the skateboard trucks and wheels still attached. Another variation I have seen is to take the trucks and wheels off of the board. Then put a hole(s) through the board. Pull a rope(s) through the board and place knots in the rope to keep the board from sliding off. Finally, hang the swing in a tree and enjoy. This variation reminds me of a disc swing and a log swing combined.
16. Beach Tree Swing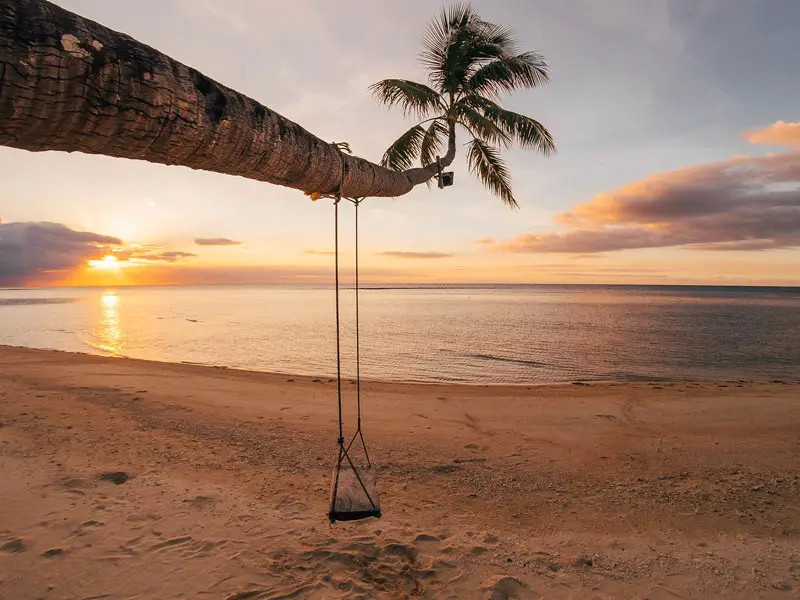 There's nothing better than spending time on the beach watching the waves roll in with the sand under your feet. This swing is a version of the wood plank swing hung from a palm tree on the beach of your choice. The great thing about hanging this swing at the beach is you get one of the safest ground covers available for a swing.
The beach swing is also nice because it allow you to swing for a while and then go for a swim if the day is hot.
17. Porch Swing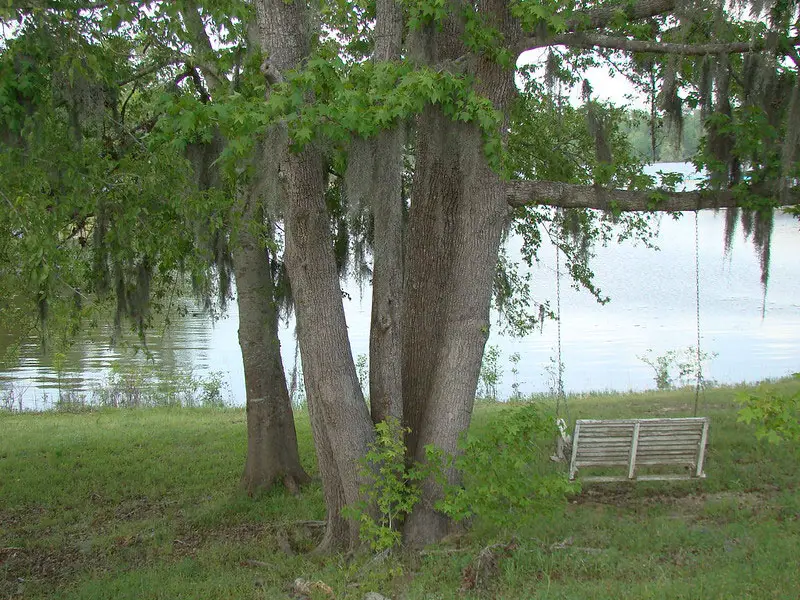 The porch swing is one of those swings you can spend hours on soaking in the day. You can swing alone. This is best done by sitting in the middle of the swing. You can also swing with two or three people depending on how wide the swing is. No matter where you swing on a porch swing, you are sure to remember it. The porch swing would be a great addition to any yard. It can be used by all ages. Just be sure to hold onto the little ones when swinging.
18. Saucer Swing
Saucer swings a large round swings that multiple people can swing on together. They are made of mesh fabric wrapped around a metal frame. Their weight limits range from 200 lbs to 700 lbs for some swings. These swings are loads of fun for small groups of children.
19. Rope Swing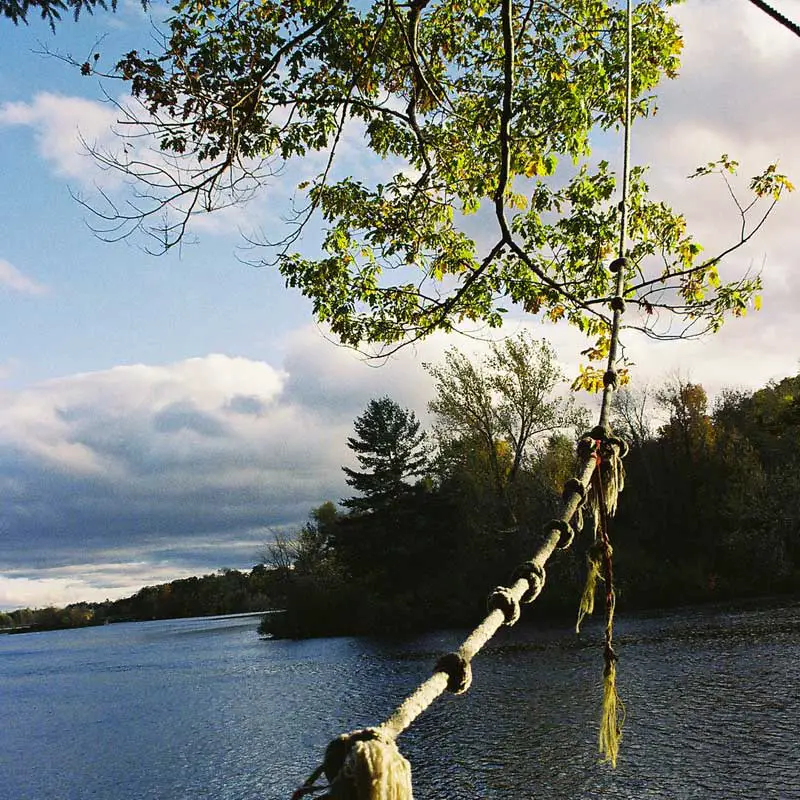 The rope swing is the most basic swing you can have to swing on. All you need is a good tree and a rope and you have a rope swing. Many people tie multiple knots in the rope so they can hold on to it better. Remember that knots weaken the rope's strength up to 60% and in some cases more. Be sure that you use a strong, sturdy rope that is graded for the load you will place on it.
20. Platform Swing
Another great idea for a tree swing that a group of people can swing on is the platform swing. A platform swing is typically rectangular in shape. They come in various lengths up to 60″. This means a 5 feet tall individual could lay down on a platform swing and not have their feet hang off. That's big. Platform swings can easily accomodate 4-5 small children at a time.
21. Treehouse Swing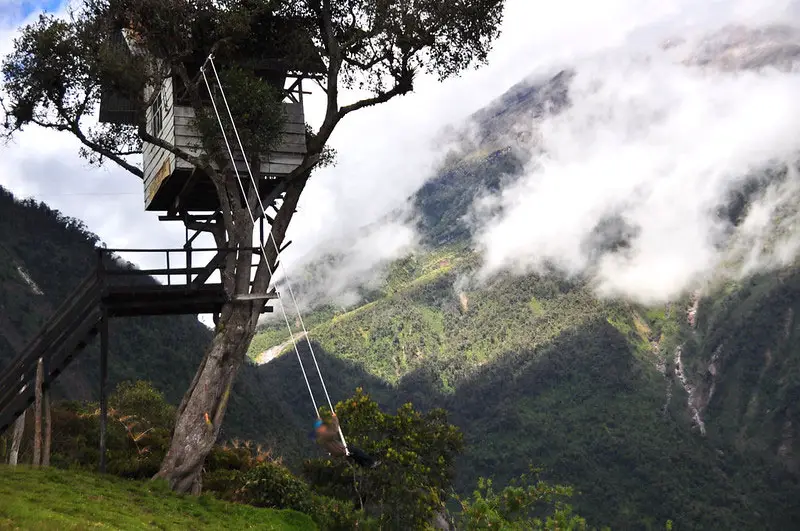 Treehouses are fun, but treehouses with swings are more fun. There are several ways you can incoporate your swing into your treehouse setup. You could put a wood plank swing on a branch next to your treehouse. You could put a swing underneath your treehouse that could also act as a climbing rope. You could hang a porch swing inside of your treehouse. The ideas are only limited by your creativity.
22. Basket Swing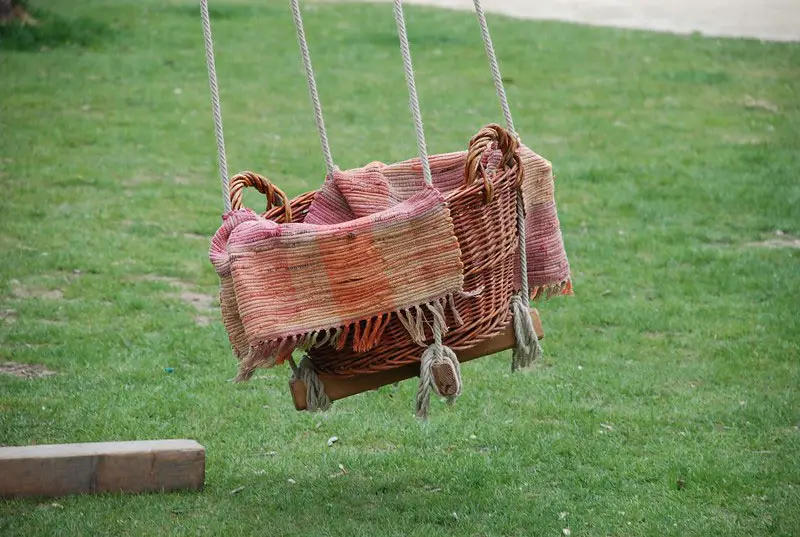 This basket swing is made with a wooden base to support the basket. Also, the ropes for the swing are tied to the wood base and not the basket. If you tie the rope to the basket, you will be depending on the basket's construction to hold the rider in. This could be dangerous because baskets are not designed to hold large loads. This swing could be fun, but you should take it easy when swinging someone in it. It seems that it is more of an novelty than an actual swing idea.
23. Wicker Chair Swing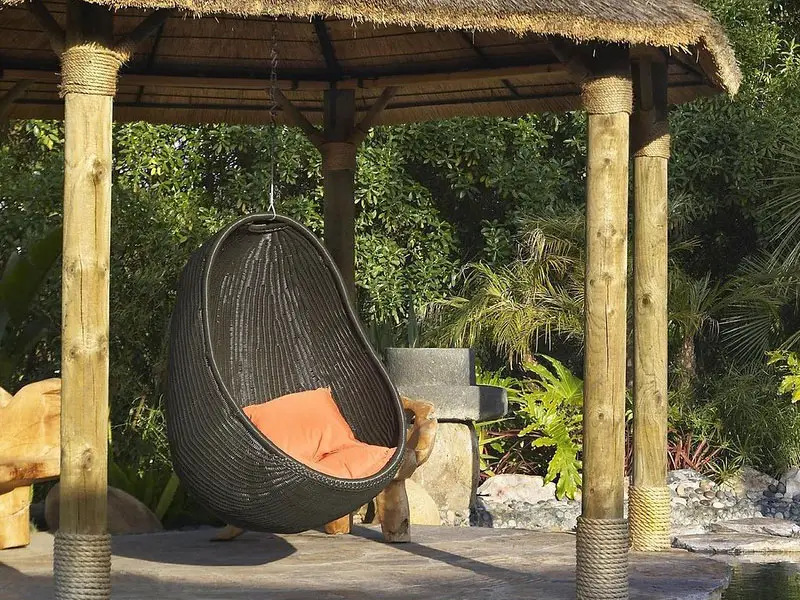 A wicker chair swing is a perfect way to rest and take in the scenery. It is similar to the knotted melati swing except for it is much sturdier. Add a few pillows and a blanket to enjoy a good swing even on a cold day. This is also the perfect swing for you to cuddle up with a pet.
The right swing for the right location
As you can see there are many options for you to choose from when you ready to put a swing in your tree. I hope these ideas help to boost your creativity and choose the right swing for your yard. No matter what, have fun and be safe with your tree swing.